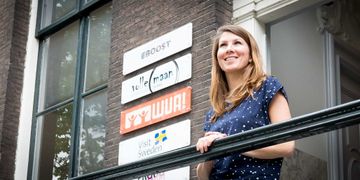 Welcome to WUA!: Liz Wemmenhove
Liz Wemmenhove has been with WUA! since May 1st as a researcher and online expert. With this interview we are proud and happy to introduce Liz: a chat about yoga, dream ambitions, neuropsychology, and the power of vulnerability.
Nice to have you here, Liz. How did you end up at WUA!?
"It's a great story. Klaas (see also: 'The month of… Klaas Kroezen') and I met at yoga classes. There, I quickly noticed he must have a really cool job: no one else in the group could talk about their job with such twinkling eyes, enthusiastic gestures, and a big smile on their face. During classes, I started orientating myself on a career outside academia (I previously worked as a lecturer and researcher), and Klaas was a very good conversational partner who enjoyed helping me investigate my ambitions. And eventually his enthusiasm for WUA! was so catching that we are now colleagues…"
If you could only name one thing: what do you think would be the very best thing about working at WUA!?
"Working together with one of Amsterdam's most energetic, ambitious teams to inspire and give direction to organisations all around the world."
You have a background in neuropsychology. Can you tell us a bit more about that? How are you going to use your knowledge in this area to help our customers?
"A neuropsychologist focuses on how our brains enable us to observe, think, feel, move, and do all sorts of other things. This can help you to explain and correct learning difficulties in children, for example. Within online research, this knowledge is useful for examining how people process information and how they make decisions. People can only process a certain number of stimuli simultaneously; what's pleasant from a customer's perspective, what works and why is that? I am really looking forward to helping organisations with this."
What is your dream ambition?
"Maybe a little top-level, but I obviously didn't become a psychologist for nothing; I always want to keep helping people, learn, discover, and improve."
You are now a yoga teacher, and yoga seems to be super-hot, at least in Amsterdam… Why do you think that is?
"In my immediate surroundings alone there isn't a single person who doesn't think they're not incredibly busy. Because we live in a busy world, but perhaps even more because we expect so very much of ourselves in terms of our careers, social lives, sports, travel, and so on and so forth. Individually, these are all nice things, but because we want everything all at once, it leads to stress. As a result, everyone's looking for peace and quiet. Yoga, especially the active form which I practice, is a very accessible form of peacefulness. It offers the soothing benefits of meditation, but because it is rather demanding physically, you can turn your attention to your body and your breathing. One of my teachers calls it 'meditation in motion'."
You've been on with us since May 1st. Today is August 1st. How would you describe the average WUA! person?
"That's a tricky one… The nice thing about the WUA Team is the fact that it is a very diverse group of people. Therein lies great power, I think: we really complement each other with all our different qualities. Something I noticed immediately was how enthusiastic, energetic, and open everyone is. I think this is the result of a shared interest in personal development. To name an example; not long ago, a colleague suggested we start the day with a yoga rave. And no-one batted an eyelid. So that week, we started with fifteen minutes of yoga with a big climax."
What is your motto?
"For me, a day without learning is a day wasted. New experiences and challenges make me extremely happy."
Which (business) book should everyone read, in your opinion? And why?
"I just finished one. It's a little bit 'Oprah', if you know what I mean, but still very much worth a read, I think; The Power of Vulnerability by Brené Brown. It's about how our entire society is permeated with shame, and the ways in which vulnerability and showing courage could be the antidote. It's also about how vulnerability can improve our relationships, make them more loving. But vulnerability is also examined from an organisational perspective: in which ways does shame stand in the way of creativity and innovation? From a business perspective, one thing I'd like everyone to know and apply, is that it's extremely important to the success of an organisation that the atmosphere is 'safe', so that everyone feels comfortable enough to put their ideas out there, and has the courage to put themselves in a vulnerable position. Only then, realinnovation and growth van be achieved."