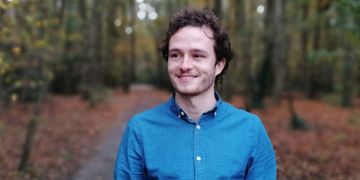 Welcome to WUA – Koen van Lunteren
Before joining WUA, Koen van Lunteren studied Psychology and did an internship at NS (Dutch Railways). In this interview we welcome Koen to the company and talk about living dreams, redesigning garbage bins, Kruger Park, and David Attenborough.
How did you come across WUA and what will you be working on?
"I first came across WUA during my internship as a UX Researcher at NS International. I was looking into a WUA-report and I remember being immediately inspired by the depth of the analysis. That's when I started to look at WUA's vacancies.
"In my role as a Digital Research Consultant, I will be analyzing and benchmarking customer experiences on the websites and apps of our clients. I'll always strive to extract the most truthful insights and provide impactful recommendations!"
You're with us for a couple of months now: what do you like most about working at WUA so far?
"What stands out the most for me, is the scope of our activities. We work with an impressive variety of clients, with different backgrounds and in multiple industries, also in an international context, I think this is really inspiring."
I'd like to ask you to go back to the moment you first stepped into the office. What was your first impression of the company? 
"I can definitely remember that! I remember walking up the stairs of the beautiful building in Amsterdam, and I was feeling a bit overwhelmed by its majestic appearance. Once inside, that impression was completely overwritten by the friendliness and warmth of all the WUA people I met that day. I also felt the energy and ambition of WUA and that feeling has not changed ever since."
Hot from the press: the team voted you as their "Employee of the Month" for November 2020. Any comment?
"I've heard it was the first time all employees got to vote, so it's really a "team vote", now.. It's a great honor to be nominated in your third month working at a company. It makes me feel extra welcome in the team, and of course, I'm proud and called my mother immediately."
Because we wanted to add some "fun" questions as well, here's one for you; what book is on your nightstand right now and why should we read it?
It's Humankind: A Hopeful History by Rutger Bregman (check out this Guardian-review, MvdB). The book challenges commonly held believes about mankind being some sort of evil creature. It provides vivid examples of why that isn't true. It gets me pleasantly confused because I got used to a totally different perspective during my study."
What life motto do you live up to?
"I don't really have one, but I found a motto that inspired me and is worth sharing. It's from Abraham Maslov, you know, from the Maslov pyramid. I quote: 'If you plan on being anything less than you are capable of being, you'll probably be unhappy all the days of your life.'"
Wow, do you have an example of when you used that motto when it really meant something to you?
"Yes, I think it's one of the reasons I started working at WUA. I was at a point in my life where I know that I have a certain amount of skills, but I wasn't sure how to fit them into my day-to-day activities. Since WUA is so inspiring full of ambition, I get the feeling that this is the place where I can challenge myself the most."
Talking about inspiring; have you ever had an idea that made you think: this is a really good business idea?
"So starting as an university project, my and some fellow students seriously considered founding a behavioral change company, specialized in nudging people into correct waste disposal. We wanted to do that by improving the design of garbage bins. Sadly, our plans didn't come through, but who knows what the future might bring!"
WUA's company culture motto is "Living Dreams". What dreams do you want to live?
"I think I'm what you call a 'practical dreamer'. That means living dreams is about waking up every day and feeling energized and excited by the idea of what the day might bring to you. So, I don't have one dream that I want to live, I feel like I'm living dreams if every aspect of my life is at a spot that I want it to be. Although, a lifetime supply of fried chicken and soybean crackers will definitely help with that."
"That's easy; the Kruger National Park in South Africa. That park has created an everlasting impact on me. I remember me and my brother standing face to face with a zebra, that was huge considering I was only ten years old. I'll cherish those memories my whole life."
Only two questions left. First one; what do you think sets you apart from others?
"I'd like to see myself as a highly structured and organized person. I really thrive in creating order in the chaos around me. I believe such skills comes in handy in a professional environment, so also at WUA."
If you could choose anyone on this planet (dead or alive): who would you choose to have dinner with?
"I think that would be Sir David Attenborough. To me, he's the guru of nature, and I think he can teach us most about our planet. I'd like to listen to his soothing voice and learn all about the jaw-dropping experiences he's had with nature."