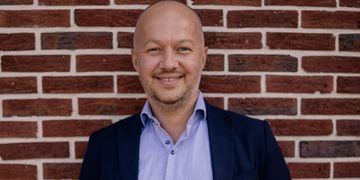 Living Dreams: Klaas Kroezen is going on new adventures
AMSTERDAM – After 15 years of intensive collaboration, WUA's founder Klaas Kroezen has passed the baton to co-founder and brother Henk Kroezen. Henk Kroezen will immediately become CEO of WUA, an international organization that helps companies improve their digital customer experience through extensive benchmarking studies.
From student room to market leader in digital customer experience research
WUA helps international organizations optimize their digital customer experience. In doing so, they ask potential customers about their online experience in their search for a specific product or service. Within this process, WUA maps the customer experiences of various major players within an industry, so that the insights extend far beyond its own website and customer data.
The company was founded in 2008 by brothers Klaas and Henk Kroezen in Klaas's student accommodation in Amsterdam. "Henk and I had a dream: to set up an international organization with a digital product and to work with the largest and best-known brands. A company where we, together with the people around us, strive to live our dreams. 15 years later, we can say with certainty that we have achieved this goal together," said Klaas Kroezen, founder and former CEO of WUA.
Klaas Kroezen: "So, what am I going to do next? Do what I love most. Connect, Inspire, Invest, and Grow beautiful business(es).
But first, I will be enjoying a sabbatical with my wife Rosalie and kids.Hibernating in Thailand, dreaming about the next steps!"
WUA is entering a new phase
Henk Kroezen is CEO with immediate effect. WUA continues to help organizations improve their digital customer experience, and we look forward to all the new opportunities in the future.
WUA will continue to improve to better serve our customers. The digital landscape is becoming more challenging, and the demand for valuable customer insights is growing.
Henk Kroezen, founder and CEO of WUA: "I am very excited to take WUA to the next phase. We have a lot in store for what we want to achieve for our customers."
We will miss Klaas because of his positive energy and high execution power. It will be a challenge to fill the gap left by Klaas, but I am confident that we will solve this with our team of professionals.
We are happy that Klaas will continue to be involved with WUA with a role on the advisory board and wish him the best of luck with his new adventures.