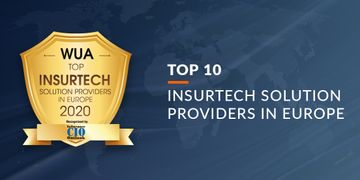 WUA in Top 10 Insurance CIO Outlook InsurTech Companies Europe 2020
Great news: WUA is listed in the ranking of Insurance CIO Outlook's "Top 10 Insurtech Companies in Europe – 2020." Yay! In this background story (find a screenprint below), our founders Klaas & Henk Kroezen share the ins and outs of this great recognition in CIO's Magazine.
Digital Experience Dashboard offering business value to the insurance industry
We believe insurance companies who are determined to achieve Digital Excellence (for instance: continually increase online sales, grow market share and raise digital service levels) decide on board-level they want to rank number one in our Digital Sales and Digital Service Benchmark studies. By structurally measuring and benchmarking at least twice a year a customer journey like car insurance or home insurance, this board-level decision creates the right insights, direction, and energy for your teams to keep winning and achieve Digital Excellence in the insurance industry.
Structurally measuring and benchmarking your digital customer journey and optimizing on customer feedback has become easier (and more fun) than ever with the launch of our Digital Experience Dashboardfor both sales and service customer journeys. Our dashboard intuitively presents the data which makes it easy to set priorities for your teams on where to improve. The dashboards offer a detailed perspective on how customers engage and experience your website against competitors in the market. Included in the dashboard, the company offers data analytics using advanced AI tools to provide actionable intelligence on where and how to improve to grow market share.
About Top 10 Insurtech Companies in Europe – 2020
In the latest edition of Insurance CIO Outlook, the magazine has assessed and shortlisted some of the most prominent organizations in the industry that solve challenges by implementing current technology trends. In this special edition, they present the "Top 10 Insurtech Companies in Europe – 2020."