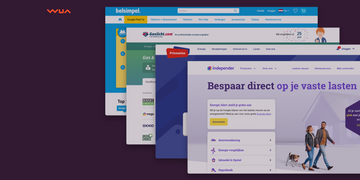 The success of price comparison websites and what every organization can learn from it
48% of the Dutch people who took out health insurance last December consulted a comparison website first, before committing to a policy. Of those, half of them took out the insurance policy directly via the comparison website itself.
Comparison websites are extremely popular across many industries, and they achieve high conversion rates. What lies behind this large-scale success of comparators and, most importantly, what can your organization learn from it?
Looking for a new energy contract in the The Netherlands? Then you'll probably head straight to Gaslicht.com. Likewise, Dutch consumers will flock to Belsimpel for a new mobile subscription and click straight to Independer to compare health insurance policies. Price comparison websites like these are extremely successful in The Netherlands – and far beyond – and they're becoming more popular every year.
Using these websites, consumers can not only compare different providers of a particular service, but they can also directly set up a new contract with them. Convenient, right?
Using such platforms to sell subscriptions and contracts is an attractive business model, as there's no need to ship physical products to customers. This method places a minimal burden on the administrators of these websites. However, if you're selling your services through comparison websites, you'll be aware that a commission must be paid for every transaction via such a site. So, while selling via comparison websites generates more sales and captures a greater market share, the margin is smaller compared to selling directly through your own internal channels.
Of course, your own website is always competing with comparison websites – even though they also sell your products and services. It can be very lucrative if you can compete well against comparison websites because sales via your own channels don't incur the costs from paying a commission for each sale.
But how can you fight this battle effectively?
The role of comparison sites is greatest in the healthcare, automotive and life insurance sectors
Comparison websites do not have an equal footing in every industry. Our studies show that comparison websites have the greatest market share in key sectors like the health insurance, automotive insurance, and life insurance sectors. This equates to between 21 and 25% of all consumers who prefer to take out new health insurance, car insurance, or life insurance policy via a comparison site, instead of another channel.
Other sectors where consumers often tend to use comparison sites include energy, mortgage lenders, internet, and mobile telephony providers. Looking at all the comparison sites in the Dutch market, Independer stands out for excellent findability and conversion. Of the Dutch consumers who use comparison sites, 35% use Independer. Another popular price comparison site is Pricewise, which claims a market share of about 17%.
Both Independer and Pricewise are active across several sectors. When we look at price comparison sites that only serve specific markets, Zorgkiezer and Belsimpel are both major players. However, these websites have a market share of around 5%. It is clear, then, that price comparison sites which cover several types of services 'under one roof' are the most popular.
And how do consumers use such a comparison site?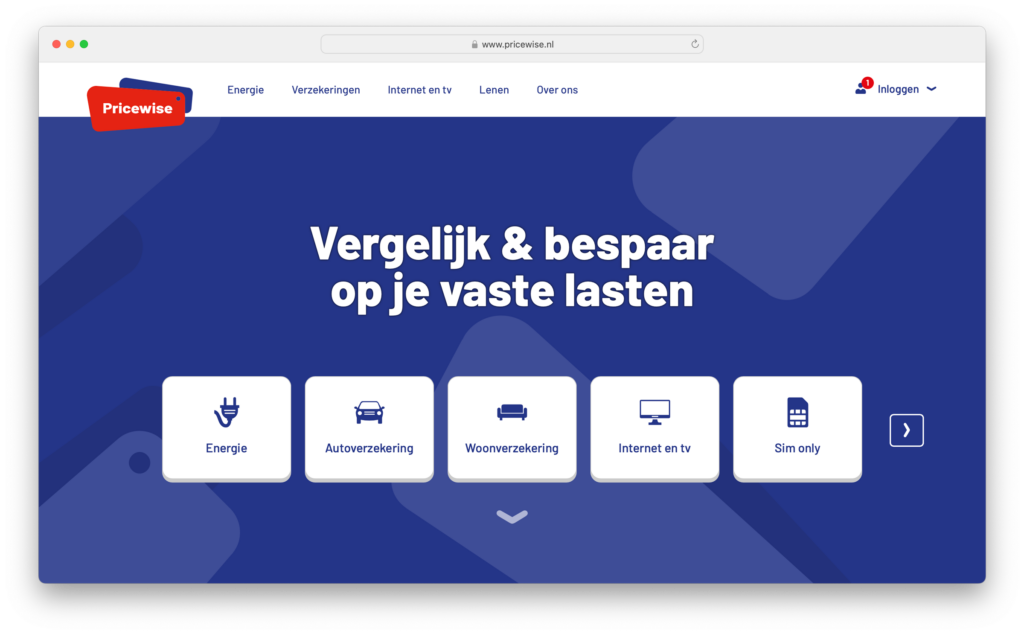 Consumers use comparison sites in surprising ways
Although comparison websites only earn money when a consumer converts (by taking out a subscription or contract via the site), most consumers actually use these sites for orientation as their main goal.
Our research shows that in the health insurance industry orientation on prices (48%) and general information and conditions (28%) are the most important information that consumers are seeking when using a site like Independer. As a result, about 70% of consumers have no intention of taking out an insurance policy directly through the Independer website. Rather, they use it to gain information about what is available and what the costs might be.
Nevertheless, price comparison sites have had good conversion figures for many years. Around one in every four Dutch people who took out health insurance in the last year did so via a comparison website. Market leader Independer achieved a remarkable conversion rate of approximately one in three in 2022. These are figures that make many organizations jealous – and quite rightly.
What can be learned from platforms like Independer, when it comes to making equally enviable conversion rates?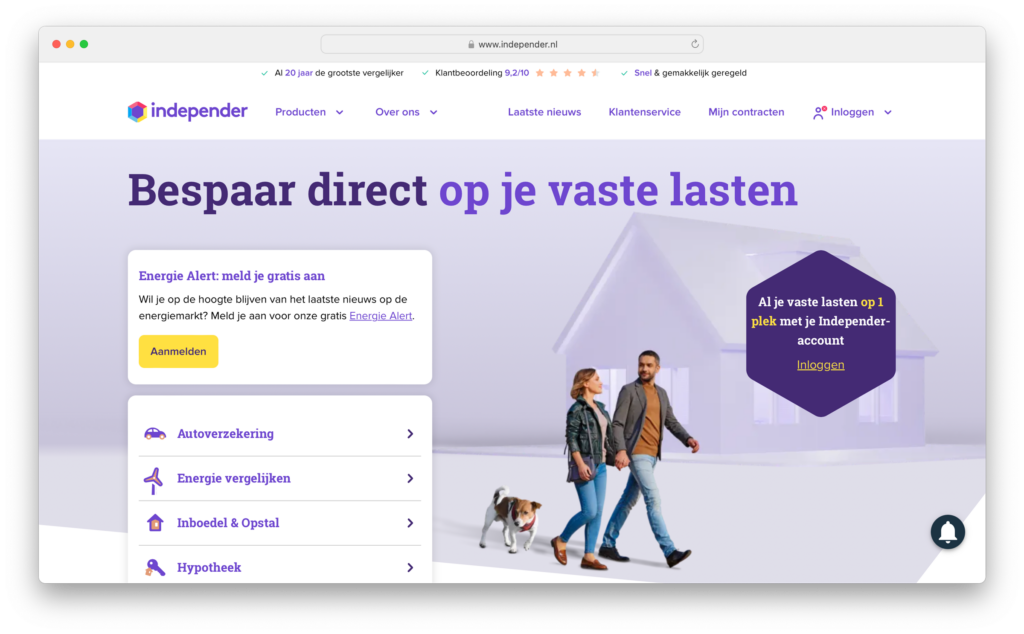 The #1 added value of comparison websites: a superior customer experience
Of course, comparison websites offer customers specific benefits that your organization will find harder to provide. For example, consumers often have the impression that price comparison sites provide transparent, independent advice. They do not expect this from the sites of providers themselves.
Comparison websites also make it easy to compare different providers on different criteria, like price and conditions, and consumers see this as saving them time and money. Another twist comes from the fact that some comparison websites redistribute part of their commission to offer consumers a discount, so the consumers can pay less than if they went directly to the relevant company.
However, the main reason consumers like to use comparison sites is because it provides them with convenience. The most successful comparison websites have managed to make this a seamless digital process across every stage: orientation, comparing prices, gathering information, and the final step of concluding a contract. They distinguish themselves with superior customer experience and putting the interests of their customers at the center of their digital experience design, adding real value to the customer. With this edge, comparison sites succeed in converting visitors who initially only come in for information or orientation.
Best practices for a conversion-enhancing customer experience
What lessons can be learned from the customer experience offered by platforms such as Independer and Pricewise? Which best practices ensure high conversion? Looking across the entire breadth of the comparison market, there are three clear best practices you can use to enhance customer experience and conversion:
1. Transparent, clear information about rates and conditions
Price information and features of a particular subscription or product must be made instantly available to consumers within a couple of clicks. That creates a sense of confidence and clarity. The information should be very transparent with an easy-to-understand layout. At a glance, a consumer must see how much they can expect to pay as one-off and monthly costs, and see the most important features of the product or service that they're getting.
2. Minimum effort for a first offer
A characteristic of high-conversion comparison sites is that consumers can get an initial price indication very quickly, without needing to select a large number of options or preferences. By asking a bare minimum of input from the customer, these sites can give consumers a preliminary offer. This makes it easy for consumers to orient themselves on the benchmark cost of a certain service or product, from which they can judge other offers.
Consumers typically want a 'quick result' that generates relevant options within a certain category of service or product. If they need to answer numerous questions, the effort becomes an unnecessary barrier.
3. Make it easy to fine-tune offers and close a deal
Once a preliminary offer is made, it can then be fine-tuned very easily by consumers. For example, by using handy filters or answering a (limited) number of follow-up questions. Also, proceeding to the purchase is made very easy. It's good to know that you don't need to 'log-in' to sites like Gaslicht.com, Independer, or Zorgkiezer. You also only enter a very limited number of personal details to redeem an offer.
Often you don't even have to declare your current provider – and this is reassuring to consumers who know they're getting a 'straight deal'.
All these make it as easy as possible to enter into an agreement. You don't have to look up customer numbers, end dates of contracts, or any other information. Your name, address, and date of birth is often sufficient to initiate the process.
The independent burden of proof
Something a provider can never do in the same way as a comparison website is to present themselves as truly independent. However, you can still learn from the success of independent comparison websites, which quote authoritative third-party sources to help their visitors make a feel-good choice.
Just think of the positive effect gained by statements from the Consumers' Association, Trustpilot (or other authorities that provide ratings on products or services).
This kind of independent information is something you can also clearly display on your own website. This enables you to support the quality and reliability of your services with independent expertise. Similarly, you can post social proof such as authentic customer testimonials and reviews on your site. Again, giving you a source of objective evidence that supports the quality of your services.
Want to increase your conversion through excellent customer experience?
Competing with comparison websites is tough work. But you can make it a lot easier for yourself by applying the above best practices. These will help you to bring in more customers from your own website, instead of paying more commissions to price comparison sites.
In this way, you not only increase your market share and sales, but also your margins and profit as you grow. A superior customer experience is the most important feature your website can offer to become less dependent on comparison websites.
Would you like more information about this or specific advice for your situation? Get in touch!
Win the battle for the customer
Are you curious to which competitor you lose the most customers and what you have to do to win these customers for you? Contact us today.
Get in touch