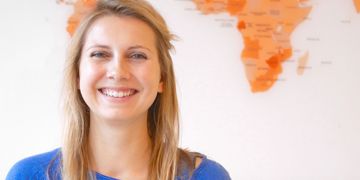 The month of… Stephanie van Bommel
Stephanie van Bommel (31) has been working for WUA! full-time since 2009, and is at the basis of a lot of the research solutions we offer at WUA!. From August 2015, she has been responsible for our international research projects as an International Research Manager.
Today is January 3st. How was December?
"Hectic and exciting! With the international team we were carrying out a major international telecom study in 8 countries. Our aim was to complete the study before Christmas, and we made it!"
Why did you start working for WUA!?
"Because of the atmosphere, the people, and the exciting, challenging work. I joined WUA! in the start-up phase of the company and am involved in almost all of the processes and developments within the company! I've seen WUA! grow from a few customers in The Netherlands to large international customers, and I am proud to have contributed to this."
What can we wake you up for in the morning?
"Sushi, chocolate, a glass of Viognier, a cuddle, a long trip, or yoga class!"
Who are your heroes?
"My parents, boyfriend, female friends, cat… Because they all choose their own paths, are themselves, and are always there for me."
You have to choose: Having to brush your teeth with steak tartare every day for the rest of your life, or sleeping in a bed full of cheese and onion crisps. Why?
"Mmmh, then I'd choose sleeping in a bed full of cheese and onion crisps forever! Crisps, delicious! Sleep, lovely!"
What do you like most about working for WUA! and what are your ambitions?
"That everything is possible, the challenging work, and my colleagues' enthusiasm! My ambition is to make sure that large international customers keep doing research with WUA! by delivering great research and developing the international team further, amongst other things."
If you could bring three things to a uninhabited island, what would you bring?
"Yoga mat, sunscreen, and a helicopter to go somewhere else if boredom strikes."
Are you like your friends?
"Only on a Friday night… ;)"
When was the last time you cried?
"A couple of weeks ago, a sad film is all it takes…"
What book is on your bedside cabinet?
"Zoektocht naar het paradijs. A travel story in the southwest of Siberia. Travel is one of my passions, and I love travel stories! Last year I travelled the world for over a year myself!"
What's your motto in life?
"You only live once!"
What's the worst thing you've done after a Christmas party?
"I'm always very well-behaved at Christmas parties, and make sure other people are having fun by handing out shots. Seriously."