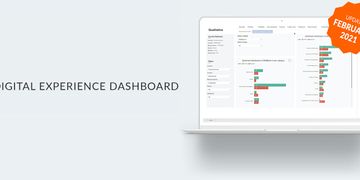 Product Update: Topic Modelling
With the launch of our Digital Experience Dashboard for sales and service in summer 2019, a constant pace of development and innovation started. Together with our clients and market experts, our research, sales, and data teams have been improving, testing, and rolling out new features and versions.
Clustering qualitative data with Topic Modeling
In this product update on the Digital Experience Dashboard Sales v.4.35, our senior research consultant Yannick Ludwig will give you a heads-up on a new feature we're really proud of via a screen recording: Topic Modelling.
This is a new way of clustering the qualitative data of our studies: the open answers. While using machine learning, all open answers are automatically clustered into groups, based on what each answer is about and what vocabulary is used.
It helps our clients to make their analysis using our digital experience dashboard much faster, gaining deep insights into their online customer experience levels in a better and more efficient way!