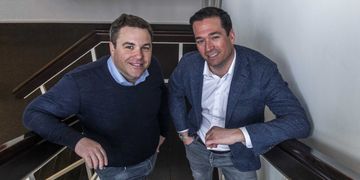 Niels van den Hoogen & Lucien Schut (Athlon): "We need to stretch and challenge ourselves from A to Z!"
In the eyes of potential customers, Athlon is the best in WUA's tracker study of the online orientation on a private lease car in November and December 2016. This interview is a talk with Niels van den Hoogen, commercial director with Athlon, and Lucien Schut, manager online. About building a team, the maturation of the market, pioneering, the standard for sales and service set by bol.com and Coolblue, and the gaining of control over the personal mobility of 17 million Dutch people.
Niels van den Hoogen and Lucien Schut, congratulations on winning this WUA study. How important is it for you to be the best in the digital arena? What is the role of having a winning mentality in this?
Niels van den Hoogen (NH): "In a commercial environment, winning feels just great. That is the shortest answer, haha. But I'd like to tell you some more about our winning mentality and the place our team currently has within the organisation. In 2013, we organised our system in such a way that we had the ability to offer private lease. The market was very premature at the time. The department dealing with private lease was organised separately from the current business, it grew and it was business as usual. At least, that's how we viewed it. As it turned out, we'd put the private lease operation back into our daily business far too early. That was the biggest mistake we ever made. It didn't work, we had no traction. At that point, we brought in Lucien. His first piece of advice was: move private lease away from your existing operations, separate the two. This is the first new step we made back then, in September 2015."
>>> Download our free ebook The Digital Excellence Challenge for 23 interviews with digital winners.
Lucien Schut (LS): "Athlon's website for private lease was already there, but we decided to sit down with the four of us, and we got to work. Then, you observe that in the first month, nothing happens. In the second month things improved slightly, in the third month sales stabilised, and in the fourth month (which was December) we got as many sales as we'd had in the entire previous year. With a small team. That's winning, and that's cool.
"However, for me the question is: do you want to be the number 1 because you want to be the best, or do you want to be the number 1 through a combination of the best terms and conditions, the best online performance, or do you want to be the best at EVERYTHING? That is where we began a journey. We needed to ensure that certain things were in order. Not just online sales. Also delivering cars, making appointments, bookings, invoicing: you need to be really good at various operational matters!"
What is your approach, what is going so well? What could other digital leaders learn from your approach?
NH: "The answer lies in our proposition, but also in digital specialism. The latter accelerated with the arrival of Lucien as manager. We also recruited other people for this. With different DNA, tried and tested in the digital world. So we have our permanent staff and an external shell of professionals. The size of this external shell depends on campaigns, but sometimes we are sat here with 25 to 30 people!"
For more interviews like this download the free ebook The Digital Excellence Challenge. >>
LS: "The automotive industry isn't particularly ahead in the digital field. Especially when you compare it to, for example, travel. Athlon understands that digital is the future, and from the onset the company has been prepared to pioneer and experiment. That is a huge advantage!"
NH: "We observe that the market is crying out for transparency, and we act on that. Consumers want to know where they stand, what they'll need to pay for a certain number of kilometers per month. And that if you start driving less, you'll get some money back. Especially when you compare it to driving an older car and the rather unclear repair costs that come with it. I believe that's the great success of private lease."
From a consumer perspective, there shouldn't be a difference (anymore) between service and sales. Are you able to break through the silos at Athlon, or: are you planning to do so?
LS: "Who sets the standard for online service and sales? I think Coolblue and bol.com do. If consumers place an order before half past nine in the evening, they expect to receive the item the following day. That makes things difficult for us. You can't just have a car ready the following day with the push of a button, there are quite a few underlying operational processes involved. Every day we look at how we can make the customer's journey as clear as possible, and every day we look at how we can improve our service."

NH: "Contract extension is the greatest reward for us. The first 24-month contracts are beginning to expire, and we see the right traction in contract renewal. That, for me, is proof of good service. We observe that not every consumer knows exactly how everything works with private lease, so we need to explain it well, provide proper guidance, and bring the customer into the processes. If we do this well, customers will be satisfied. We operate in a fiercely competitive market, and the real difference will be made by the party that provides the best aftercare, and therefore the best service tailored to the customer."
LS: "With private lease, we currently find ourselves in some kind of initial or orientation phase. Every month we can see things accelerate because the concept is becoming more commonplace. People no longer want to spend a large lump sum on a car. We're gradually moving towards a replacement market, which will cause us to accelerate differently. We are currently breaking open the market, which you do together with your competitors. Both next to each other and against each other. Eventually, as the market matures, service will play an increasingly important role."
What is the role of customer research and customer focus in your daily work and in the teams you are responsible for?
NH: "Previously, the customer was primarily the fleet manager. The fleet manager is still as important, but in the meantime the driver has become just as important. The dynamics between customer, driver, fleet manager, and future customer has changed considerably in recent years, and in the market for pivate lease we're even dealing with an entirely new dynamic."
LS: "We're using different types of customer research. NPS studies are standard with Athlon. We take it a step further every month. Your quality needs to be measured on a daily basis. Continuously sensing, changing, observing, and changing again. We don't just do this for the consumer part but also the business part of the company. Customer data is essential in this."
What KPIs do you use for digital, which knobs do you usually twist in order to excel digitally?
LS: "What we're strongly aiming for is customer satisfaction: we need to keep this very high. At the front, when it comes to sales, we could take a thousand or three thousand orders per month, but if we cannot live up to our promises at the back, there's absolutely no point. Of course we track our performance in Google and push for it. To us, this WUA Tracker study is also an indication that we are on the right track. I just have to say that we are still at an experimental stage at this time, and that the 'hard' KPIs everyone in commercial departments is used to having still haven't been finalised."
What are your biggest digital challenges for 2017?
LS: "We constantly challenge ourselves, which we call stretching. For example: we want to double our sales numbers, but without it affecting personnel costs. Where should this come from? From a process optimisation perspective, it should be achieved by improving continuously. At the beginning it was just learning by trial and error. Now it's all about stretching, new analyses of processes are being made from minute to minute. Where could you shave off an extra minute in operational processes? So if you can handle it cleverly, and are able to increase the volume whilst ensuring that fixed costs remain the same, you get another turning point."
For more interviews like this download the free ebook The Digital Excellence Challenge. >>
NH: "Challenging and stretching are common practices here: even the building we're all in is being challenged by the square metre. Do we need this, can it be done differently? Working conditions need to be perfectly arranged, but we challenge everything on efficiency. This is necessary, because it is a business with relatively low margins. We need to stretch and challenge ourselves from A to Z. So that's our big, constant challenge, also in the digital field!"
What digital innovations are you currently working on, and what developments are on your roadmap?
LS: "It depends on how you define innovation. If you mean innovation in the context of website optimisation, I see it as an ongoing process. We make one improvement after another, also based on the results of your research. We get pointers and can learn a lot from consumer feedback. We immediately apply it to our existing business."
NH: "We find ourselves in this phase where we're working very hard to improve the foundation on which we build. Sometimes things are happening so fast that you have be careful not to lose control. In the past, our new propositions were true innovations. Meanwhile, those innovations are becoming more 'normal', and we're working towards a scalable organization. The danger of innovating and doing lots of new things is that it is not always scalable. Scalability is always on our minds. So sometimes, when it comes to innovation, we have to hold our horses for a little while."
What do you think will be The Next Big Thing in digital in your market and focus area?
LS: "Basically, our point is: you need to be able to find the customer digitally, and trigger them during their customer journey. Right now, I can't say how we are going to develop in this regard, because when it comes to private lease, customers themselves are still continuously discovering, experiencing, moving, and orientating. So we're not quite sure yet ourselves. If you have the answer, do let us know, haha."
What is your ultimate goal and dream in the business area?
LS: "That's a very tough question for me to answer… Oh, alright then. My ultimate dream is to further develop Athlon to the point where we're the Vodafone or KPN (market leaders in the telecom industry in The Netherlands, MvdB) of our market."
NH: "My ultimate dream in business is for Athlon to manage the entire mobility of individual people in the best possible way. A private lease car is only part of your personal mobility. If Athlon is allowed  to gain full control over personal mobility, then we are spot on with the vision and strategy of Athlon. So then we'd be looking at 8 million vehicles in the Netherlands, and 17 million Dutch people. That's a very different view of the matter. Bear in mind that we currently have around 110,000 lease contracts running. Behold the potential of my ultimate dream ;)"