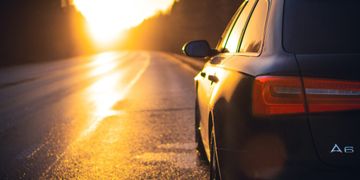 Clearly showing USPs convinces business lease drivers to choose Athlon.com
In the Dutch business car lease market, Athlon.com is the best overall performer, according to WUA's most recent study among 400 small and medium-sized enterprise business car lease drivers (February 2019). This is what Athlon does to convince the business lease car driver:
USPs are clearly shown, and it works
On the Athlon.com homepage, everything is all about business lease, and this relevance is convincing for the business driver. The company shows its deals, for instance, its options for electric cars, and crossovers. Below that, the website immediately mentions the company's benefits.
Social proof is more than customer ratings
Aside from the USPs, the website shows – in yellow – the certification that shows it was elected 'best lease company' in 2017/2018. This breeds trust, and is seen as a positive element by customers: "It immediately shows a list of the options they offer. It has a 'best lease company' certification."
Athlon.com also shows the customer rating on its website. Based on 26,868 lease drivers, the lease car provider is assessed with an 8.4 grade. This rating is elaborated upon when people click on it. The rating for reachability (far left), response time to questions, customer-friendliness of employees, and meeting expectations (far right) are explained with stars and respondents.
That this draws consumers' attention, is proven by the following consumer response: "The website immediately shows a varied offer of cars, and they have an 8.4 review score."
Subtly emphasizing Social Proof and USPs in In-Depth convince customers of offer
By emphasizing its USPs and showing Social Proof, Athlon.com manages to be convincing in the presentation of its offer. When website visitors continue on the site to choose a car, the customer rating remains visible. The company's 100 years of experience is also emphasized again, as is the varied offer (362 cars, 7924 models).
A little further on, the USPs are shown yet again, this time on a blue background. From left to right, it says:
18 to 72 months carefree lease
Easy to set up online
Configure your own contract and lease car
Quick cancellation
You don't pay for any unnecessary extras
'Clear' is a word used often by respondents when describing Athlon.com. They say, for instance: "The offer is clear, and so are the conditions." Another customer says: "The company comes across as very transparent, and the conditions are shown and explained very clearly."