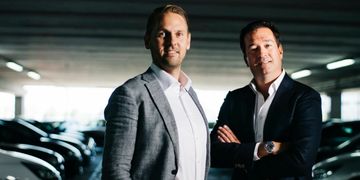 Hans Burki & Niels van den Hoogen (Athlon): "Keeping up with technological advances requires openness"
In February 2019, Athlon.com won the Business Lease study, repeating its success of December 2016. In this interview, Hans Burki, Sales Manager Partners & Online, and Niels van den Hoogen, Commercial Director both from Athlon Netherlands, talk about the importance of winning. They also elaborate on why technological advances require vulnerability, and discuss the digital innovations Athlon.com is currently working on in the Netherlands.
Hans and Niels, congratulations. You've won a number of awards in the recent past
Niels van den Hoogen: "Yes! Recently, we have won the industry award for 'ChangeMyCar', and in 2018, we won the award for the Best Lease Company for Large Fleets, our corporate segment. But it's been two years since we last did a winners' interview, so we're also very happy with this first place in the WUA study."
How important is winning, and being the best in the digital arena, for you?
"Winning is great and that's it gives meaning to our work.. But being relevant and participating in the game are more important. In the Dutch online Automotive market, there are four dominant players that really matter. For us, it's important to be one of those four."
Niels van den Hoogen: "Winning an award is the ultimate proof that you're on the right track. That's great, but in the end, you also want your business to grow."
Is that winner's mentality that brought you this award also visible in the teams you're responsible for?
Hans Burki: "Definitely, we're incredibly proud of this, so much work, so many hours have gone into this. Winning this award also boosts our drive to go further. It was a long way, we achieved a good score, but this is not yet our final destination."
Getting the right people to do the right things in Digital is often a challenge. You're doing really well in this aspect in your teams: what could other parties learn from your example?
Hans Burki: "I think many players in this market tend to think large-scale. They recruit entire teams, use external agencies with massive budgets. That's fine, and it's a way to do things, but we at Athlon do the exact opposite. With a small team, operating in-house. We focus mostly – or, frankly, we focus only – on the expertise and value creation, not on theoretical experience. For us, having short, direct lines of communication works very well. Everyone is focused: no distractions, no other projects, no freelancers or external agencies in your team who also work for other clients."
Niels van den Hoogen: "What I find to be a great affirmation of the success of our approach? Lately, we've seen the trend at Athlon that freelancers become employees, simply because they like our company and want to be a part of that. So despite the freedom they have as independent entrepreneurs, they choose to work at a corporate organization full-time."
Why do you think that is?
Hans Burki: "There's a great challenge for our specialists, of course: in the digital arena, the automotive industry is a slightly underdeveloped industry and is basically still in its infancy. At Athlon, they can really make a difference, leave their mark on things, and become the winners of tomorrow. You see that this, in combination with the work itself, creates a certain pride. Whether it's expertise in digital, sales, or IT: everyone's incredibly proud of what we're doing, and still remains critical."
Business drivers want to be taken care of, but consumers also have an increased expectation of service. How have you organized this? Are there still silos, or have you created a multidisciplinary approach?
Hans Burki: "With all the great e-tailers consumers are getting used to high standards. And at the end of the day, business drivers are people, too. We don't really think in terms of separated silos, we see the market as one single market. Learnings we find in the respective segments are taken back and shared with the rest of the organization."
Niels van den Hoogen: "We shouldn't try to maximize everything, just optimize it. Small steps. Focusing on each separate part, and not wanting to do everything at once, because there's probably 1,000 things we can think of that we'd want to improve in digitization. Add focus; taking small steps will eventually help you move forward faster."
Customer research: is that something you work on daily?
Hans Burki: "Yes, we definitely have insight into who are customers are and what they do. We're very focused on that. Data are becoming increasingly important in this: we read data of our existing customers, but we're also looking at potential new customers. By working with a market-focused approach, we anticipate the needs of new target groups. That's why we're working hard on data and customer feedback."
Do you aim at KPIs like CES and NPS?
Hans Burki: "We do continuously measure the NPS. Not just for each segment (business or private lease), but throughout the complete Athlon value chain. This is the KPI we can really distinguish ourselves in, and we do it well. The customer satisfaction scores for both private lease and Athlon Essential are currently incredibly high."
Niels van den Hoogen: "Compared to the industry average, our replacement percentages are a lot higher; we can see this in our high NPS scores. We measure the satisfaction level of lease drivers every day. These measurements are sent round daily, and are discussed in larger committees each month."
Technology plays an important, sometimes even disruptive role in our lives. How is this in the Automotive industry, what do you see happening in platforms and large tech players?
Hans Burki: "A number of large technology platforms are entering the lease market. Amazon is now active in private lease in Italy and Spain, the first trials have already been done there. You also see eBay, which at the moment is still focused on used consumer goods, working on the future, and looking into selling new cars. These are large parties entering the market, that can easily gain a strong position."
Niels, do you have any experience with these challenges from your position?
Niels van den Hoogen: "The challenge is in the speed. The market wants to develop itself faster and faster, but technological advancements aren't always as easy to keep up with for large companies. Keeping up means vulnerability. Being open to changes and acting accordingly. That's different from how we've done business up 'till now. Our business model used to consist of just realizing as many cars, kilometers, damage and repair as possible. 'ChangeMyCar', which we won an award for, would've been a threat in that business model. With this proposition, you put fewer lease cars on the road. It does, however, fit the idea of future-proof working, where everything is about sustainability and flexibility. These are two pillars that we're focusing on more than ever."
What digital innovations are you working on, what are you focusing on?
Hans Burki: "On interaction with our customers. This is still fairly one-dimensional via our website. We'd prefer more interaction at Athlon. That's what we'll work on. In the short run, this means: providing customers with the right content, looking closely at ease of use, and customer journeys. Customer journeys are changing, especially given the electrification of the Dutch fleet market. Instead of typical questions about fuel, people are now asking questions about charging stations, the car's range, and charging speed."
Niels van den Hoogen: "In the end we want to enable doing even more with our phones. For instance by paying for electricity with your phone. Customer journeys on smartphone will be put at the heart of this. That's what everything's leading up to."
Hans Burki: "One of the most important trends of using mobile devices is the ease of ordering things. Voice command is also on the agenda, but that won't be done by tomorrow."
Niels van den Hoogen: "Aside from all these digital innovations, Athlon Netherlands goal: is to be the most sustainable and efficient service provider. It's not our goal to be the biggest. The intention is to be the best."