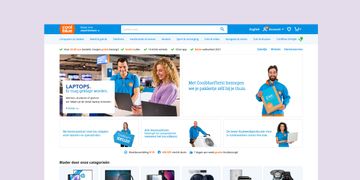 Best Practices From the Masters of Customer Experience: Learn Coolblue's Winning Tactics
Bonus: Get the winning tactics from market leaders in retail
Your Customer Experience needs to be the best in the industry to stay ahead of the competition.
Our comprehensive Benchmark Studies reveal who is leading each industry with the best Customer Experiences. There are some Best Practices and methods that always drive better experiences and increased sales.
Coolblue consistently leads the retail industry across multiple customer journeys. Their exceptional customer experience helps shoppers quickly find the products they need with a digital customer experience that builds trust and wins sales.
#1 Good First Impressions
With a clean and simple layout and calming color scheme, the customer is instantly able to orient themselves and start searching for relevant products. However, Coolblue doesn't promote the products first. It prioritizes their brand, and uses every persuasive trick in the book.
Coolblue leverages both text and images to the maximum ability for persuasiveness. The Contrast Effect is used to highlight the most important pieces of information, using bold text and contrasting colors.
It is made perfectly clear at the very top of each page exactly why you should shop with Coolblue: Free next day delivery, 7 Real Stores you can visit, dedicated app, and Free Returns.
The 'cherry on top' is a 'Best Webshop Award 2021' badge from Tweakers, a website dedicated to providing information about technology. With just a click, the user can find out more about each of these highly relevant advantages.
#2 Persuasive and Positive Images
Imagery is a powerful component of the Customer Experience. Coolblue uses this to leverage their fun, lighthearted branding. They show their human side, with images of Coolblue expert staff assisting customers and providing advice.
Coolblue uses their images to convey some key messages and leverage known persuasion techniques:
Customers know that if they have any questions, they will get them answered easily. At the bottom of the page is a prominent blue 'customer service' element, that demonstrates that Coolblue's people are always on hand to give advice or help whenever needed, and through a variety of contact options.

Positive interactions with people, not just products. The imagery shows the customer that a purchase with Coolblue is primarily about positive interactions with people – not just ordering/receiving products. It also builds trust with every glance, by showing that they are experts and that they are reachable at any time.
Self Relevance and Gaze Direction. Coolblue intelligently uses images with eye contact and gaze direction to trigger 'The Self Relevance Effect' and to direct customer attention towards important elements that influence perception of the brand.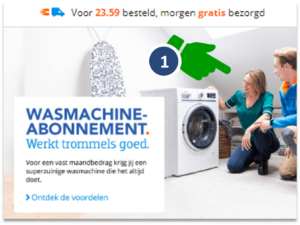 #3 USPs on Repeat
Coolblue's unique values (free delivery, free returns, award winning etc.) are repeated throughout each page many times.
You can't miss it.
Their slogan, 'Anything for a smile', clearly demonstrates to the website visitor that they care about their customers.
Combined, these imbue the entire experience with a positive feeling and helps build trust in the brand.
#4 Brand Power
Coolblue leverages the power of their brand to give customers unique values that are hard to compare.
They're not just selling an Acer Aspire 5 laptop – you can get that anywhere – they're selling Coolblue itself.
Product pages always show Coolblue's features first, before diving into product specifications.
They repeat their USPs at every opportunity:
Physical stores
Free delivery
Free returns
Customer service
Device guarantee
'Best Webshop Award'
A combined customer review of the Coolblue brand of 9 out of 10.
#5 It's All About Trust
Electronics are typically big-ticket items that require a lot of research and trust in the brand before a purchase is made.
For this reason, Coolblue makes sure that the customer knows they can be trusted.
Every opportunity is used to show the customer how Coolblue is customer-focused, and is always there to provide help.
The winning ingredients in Coolblue's brand formula are:
Customer-oriented
Own service, delivery, and installation (expertise)
Makes Customers Happy
Advice available remotely
Obsessive focus on customer satisfaction
Delighting the Customer
All of these elements are interwoven with the entire website experience. Images show customers (that's you!) being made happy with assistance from Coolblue staff.
#6 Product Pages with Proof
Certain product pages will show a 'Coolblue's Choice' badge, which proves their expertise while helping customers make a choice.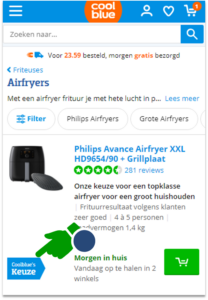 Every product has a customer review, which leverages the power of Social Proof and the Bandwagon Effect to inspire confident buying.
And throughout the experience, website visitors are delighted by humorous additional elements that give them a positive emotional boost during the experience.
#7 A Winning Mobile Experience
Customers typically find it hard to shop for electronics via smartphones. However, Coolblue has overcome this problem with a reassuring branded experience that is communicated through multiple, unobtrusive page elements in their mobile version.
Coolblue has ensured that their USPs remain just as prominent on the mobile version of the site, despite a streamlined design.
Without becoming cluttered, the USPs of the Coolblue brand are still given priority on every page.
Customer expectations are made clear in the header and values are repeated throughout each page and in every section. The 'Coolblue's Choice' sticker and 'Free delivery' are particularly obvious.
One difference is that extra space is given to product specifications that briefly highlight a few important features. This gives customers everything they need to know in a single glance – always a challenge for mobile versions.
#8 Be Clear
Coolblue exceeds customer expectations by providing installation services for household appliances, including built-in ones like dishwashers or freezers. To remove any trace of doubt, they reassure the customer with clear information and descriptive videos that demonstrate what they can expect.
To support decision-making, Coolblue also offers a wide range of informational videos that reaffirm their authority and dedication to the customer. All of these give the customer a 360-degree view of the 'Coolblue experience'.
This underlines the 'Best Practice' exemplified by Coolblue's exceptional customer experience: emphasizing the unique service they provide, and repeating this clearly throughout the experience. Additional service information like warranties is easily accessed on each product page.
Understanding that they sell 'big purchases', they take every step possible to reassure the customer and build trust.
They also outline clearly what they don't do. This has the dual effect of being transparent (trustworthy) and manages the expectations of customers, to avoid disappointment.
Ready to offer the best digital customer experience?
These best practices have led to Coolblue coming out consistently on top, for multiple customer journeys in retail. Many of these are particularly effective for electronics, appliances and other 'big ticket' items, but they're also relevant for any retail organization.
Want to learn more about how Benchmarking can help you offer the best Customer Experience in your industry? Get your demo, or get in contact with us today.
Get the winning tactics from market leaders in retail
We've selected the most effective tactics used by market-leading companies, Coolblue, Bol.com, The North Face, and KPN. Don't miss out on these tactics and download them today.
Get these tactics now