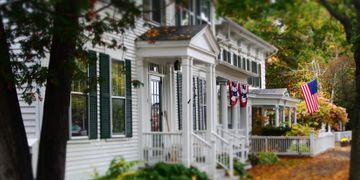 Allstate: quickly accessible information and emphasizing the 'why' ensures win
In the United States, Allstate wins the Home Insurance study this year. Website visitors are happy with the amount of information and have faith in this brand. This is how Allstate.com does it:
Reasons why clearly displayed on home insurance page
By showing the Allstate name throughout the page, consumers feel secure that they have found the right website, which increases their trust in the brand.
Almost every time the Allstate name is mentioned, either on the homepage as the home insurance page, it is connected to a reason why. For example: "Allstate is more than insurance", "Allstate can help you protect your home", "Get helpful information about home insurance with Allstate", "Read what Allstate has to offer", "Allstate insurance is more than.." and so on.
The page's first information section immediately starts with a big WHY you should get a home insurance: "Get coverage built to protect your home". Because of the large font and the noticeable letter spacing, it stands out. ​
In the header, website visitors see a family with three children, enjoying what looks like breakfast at home. This reflects the feeling of protecting your home. It's seen by the consumer: "I like the pictures showing me what the facts are referring to."
Information is easily accessible
Allstate.com presents information quickly. On the left, a menu gives the website visitor options to navigate to a Home Insurance Overview, Coverage & Policies and so on.
By clicking on the items in this menu, consumers have all the information they need, without having to provide any personal details. In the words of the consumer: "Ample information about a variety of policy information and things to know without wanting to grab personal information up front. Felt friendlier and more personable". In addition: the most important information is displayed right below the Allstate "why".
Allstate convinces visitors by giving out the right information and emphasizing the why
The Allstate website convinces visitors by regularly naming the why and making the most important information easily accessible. Website visitors don't have to enter a zip code, name, and telephone number to know what the benefits of Allstate are.