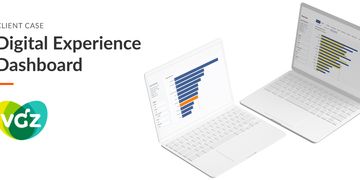 How our clients work with the Digital Experience Dashboard: VGZ
The quest for the best customer experience
In Q4 2020, WUA set up chats with our dearest clients to talk about how they optimize customer experience and "The New WUA": the product and organizational shift that WUA is making, with the Digital Experience Dashboard taking on a huge role. In this edition: Jeroen Görtzen, Chapter lead Digital at Dutch insurance cooperation VGZ.
Thank you for making this interview happen! We're keen to discuss your process for improved customer experience. Let's start with a short intro: What does your job entail at VGZ? Can you tell us a bit more about your role and the organization you work in?
"After our IT department at VGZ made the switch to agile a few years ago, our entire marketing department did the same. Now we work as a matrix organization. This is a similar model to the one used at Spotify and ING Bank. There are no longer any traditional departments, like marketing or communication, and instead we work in multidisciplinary teams that are stationed at different segments of the customer journey. So, for example, we have one team that's working on compensation and claims.
"Within our division, there are 15 customer mission teams that are completely dedicated to optimizing the customer experience and journey. They consist of people who are experts in all different fields, like UX, design, content and marketing. A lot of times, these experts will be the only member of their team who works in their field of expertise. That's why we organize monthly meetings with experts from the same specialization… digital experts, in my case. Within those meetings, we work on trading knowledge, doing research and developing standards that are relevant for all the customer mission teams. As Expert Lead Digital, I'm the leader of my group. But also, in terms of thought leadership, part of my job is to look beyond the teams and see the overarching topics that are going on inside and outside the insurance market, and the opportunities that these open up for VGZ. I also provide advice on lots of different topics, including strategy." 
What are the big digital challenges you and the teams have to cope with at VGZ to accelerate digital growth, and how do you manage? 
"At VGZ, we are big believers in providing a superior customer experience. By making sure this is well organized on the digital side, you increase customer satisfaction. It also reduces the use of more expensive channels, like phone support.  
"To achieve and maintain a superior customer experience online, you have to offer an outstanding digital customer experience. The biggest challenge is keeping on top of things when the world around you is changing so fast. Sometimes customer expectations shift, even in the areas where you're doing everything right within your own sector. Those expectations are actually the sum total of customer's experiences inside and outside your sector, and that's what sets the bar. Customers want things to be faster and better… they want to see more empathy from us as an insurer. 
"To achieve and maintain a superior customer experience online, you have to offer an outstanding digital customer experience."
"And this raises another challenge. At VGZ, we've invested in a digital-first strategy. We want to make sure that there's a digital option for our customers to do anything they want to do with us. But how can you make sure that a digital transaction also provides a human-first experience? That's what customers expect from us… it also matches our brand and what we promise. VGZ is all about engagement and positivity. We don't want to be a digital factory; we want to offer a human-focused digital environment!"
At VGZ, you've worked with the Digital Experience Dashboard and with our other product for quite some time now. You and your teams have always kept us sharp and you still do. How do you reflect on working with us? 
"I think that WUA's Digital Experience Dashboard is becoming more and more user friendly. In the first versions from 2019, we saw that it was mostly the data scientists who were working with it. Now, it's really the marketeers. And that's a very positive development!  
"For me, the Dashboard is really a tool for seeing exactly where we stand. In terms of collaboration, we're seeing great development in the way of working. We were looking for the best way to work together to optimize, based on the insights that the Dashboard provides. But how do you put insights into action? The Dashboard is a big help to us in making our CX insights transparent. But if you want to get the most benefit out of the Dashboard, you have to make those insights actionable! 
"For me, the Dashboard really is a tool to see exactly where we stand."
"We've worked with WUA's research consultant Laura Folkers to set up a new model for our way of working, and that's been very well received within our organization. In past years, we would just set a time each year when all our teams would come together and discuss the insights and follow-up actions alongside the Dashboard. We'd all meet up and have a good discussion, but then the "action" part would gradually lose momentum after that. Also, very importantly, we found that this way of working didn't give our various teams an opportunity to really think about follow-up actions and things they need to improve. 
"Our new approach looks like this: First, we do a deep dive with specific teams on the service or sales tasks that they're in charge of. And then we immediately tie this into an action workshop. The teams have a chance to really think, and then we include time for a feedback round that includes multiple teams. This way of working has given our teams a chance to reflect: What are we doing with the information we have? What will we do next? What's our focus? The great thing is that the feedback rounds have already led to us making a number of improvements!  
"The Dashboard is a big help to us in making our CX insights transparent."
"This gives our teams a more focused way to take on the improvements and insights that are relevant, and it gives them a chance to create a roadmap for optimizations and areas for improvement. And then we plan a quarterly session to weigh how things are going. How are the follow-up actions moving along? What's the latest status? Do we have any new insights? We've been working all year with the benchmark. This is something that you really need to keep working on non-stop. From insight to action, from optimization to result." 
What specific topic or feature of the Dashboard has the most value? What do you find most useful or interesting for improving customer experience? 
"I personally find the overall scores in the service dashboard very important. How are we doing compared to others when it comes to three topics: our functional, rational and emotional impact? Our customer experience principles at VGZ are a very good match for the WUA Digital Service model and those three topics I just mentioned. We often use the Dashboard to zoom in: Is the rational aspect doing alright? Can we make it more emotional? How do we bring more empathy into the digital transaction? How do we score higher on customer experience?  
"Another part that I find very important is the qualitative responses. The numbers speak for themselves, but if you want to improve, then you need to do a deep dive and perform a qualitative analysis. I've noticed that this is something my colleagues and I really value: What exactly is the customer telling us? Where are they running into problems? We're very much focused on improving, but you have to know exactly what's going on." 
"The numbers speak for themselves, but if you want to improve, then you need to do a deep dive and perform a qualitative analysis."
What results and customer experience improvements are you most proud of, using the Digital Experience Dashboard? 
"We're now scoring 'on par' and, in some tasks, like the service task 'Claims,' we've even taken the lead. Our app is an important part of our digital service, and our customers find that we're doing a very good job here. They even want to be able to take care of more things themselves than is currently possible, and that's an important sign of how far we've developed. On the whole, we're not there yet… and you're actually never really finished getting there… but it's great to see how we are accelerating as an organization with help from WUA. We've even seen the CX score go up in the sales survey. That's very rewarding, because creating a superior online customer experience is exactly what our goal is, and that's what we're happily working every day to achieve!"