4 dos for a good recruitment portal
Every company wants to have the best people on board. That is why many companies invest millions in attracting the best staff. But typically there are two sides to this search. For jobseekers are also looking for the ship that's best to sail on for them. It is therefore important that you as a company make sure that your ship looks as good as possible in the (online) shop window.
In April 2016, WUA! carried out a study of the online orientation behaviour of higher educated Dutch people who are looking for a job on designated recruitment websites. The study shows that the two banks ING.nl and ABNAMRO.nl clearly get first preference. In this article, we look at the best practices used by these two banks. You can request more information about the recruitment study here (in Dutch).
1 Key information immediately visible
When someone visits your company's website looking for a job, the jobseeker has two important questions. Question 1: Which vacancies are available? Question 2: Does this company suit me? It is important that these two questions are answered directly on the careers page or recruitment website.
ING.nl does this well by displaying two CTA (Call-to-Action) buttons with clear CTA text. Stating the number of vacancies and challenging you to find your dream job in their list of vacancies, is the answer to the first question. Then they literally ask you the second question, challenging you to find out whether ING suits you. This makes it very tempting for jobseekers to look further into working for ING.
2 As easy as buying a pair of shoes
Large recruitment pages often contain hundreds of vacancies. It is therefore crucial to have a good built-in filtering system, which enables people to find a suitable job. If you were, for instance, looking to buy a pair of shoes online, you'd like to be able to refine your search based on size, material, type, or colour. ABN AMRO (338 vacancies at the time of the study) have therefore built a comprehensive filtering system. Just like entering your shoe size, you first fill in your profile, and then you pick the field within which you want to search. You're also free to use your own keywords. This way, it is easy to find the job that suits you.
3 In the shopping basket
Once you've managed to convince the jobseeker to apply for a job with you, it's important that you make it easy for them to take the next step. The "apply" button can be compared to an "add to basket" button; a very essential part of the e-commerce process (an understatement, really…).
ING.nl makes sure that this button is always visible on the careers page, with its striking orange ING colour. Located at the top of the page for visitors who want to apply immediately, and at the bottom of the page for visitors who prefer to sit back and read the entire description first.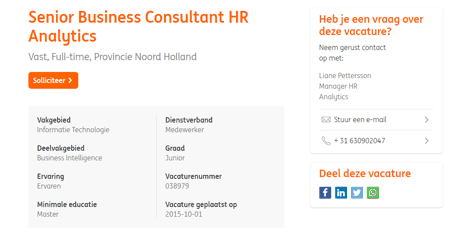 4 Save difficult questions for the interview
No-one likes long forms with difficult questions, and for the vast majority of people having to fill in lots of details isn't a favourite pastime. After all, as an applicant you've probably already created a CV that contains all this information. ABNAMRO.nl has the same view on this, and this is why they have made their application form as concise as possible. This means that everyone who is looking for a job can apply immediately. As a result, it's easier for visitors to orientate themselves and to actually give preference to the job that suits them.