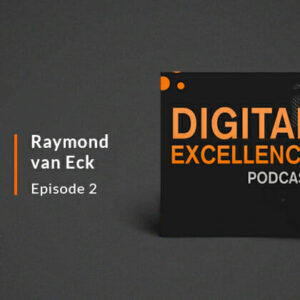 Digital
Excellence
Podcast
Episode 2
Raymond van Eck
#02 easyEnergy: Challenger in drukke energiemarkt – Digital Excellence Podcast
Digital Excellence Podcast #2:
In deze nieuwe editie van de WUA Digital Excellence Podcast luister je naar interessante gesprekken omtrent het bereiken van Digital Excellence. In deze tweede aflevering spreekt Matthijs van den Broek (Head of Industry – Energy bij WUA) met Raymond van Eck (co-founder & CCO easyEnergy).
Een gesprek dat gaat over de digitale strategie van easyEnergy, de uitdagingen op de energiemarkt, KPI's, trends in de markt, opboksen tegen de gevestigde partijen met een vernieuwende propositie, en over het optimaal inzetten van klantonderzoek.
About the Digital Excellence Podcast
In the Digital Excellence Podcast, we talk to digital frontrunners, winners of our CX studies, clients, or friends. We talk about the organization of digital business, challenges, technology, customer experience best practices, digital service, and much more.