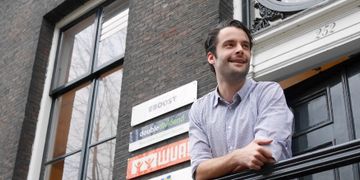 The month of… Olf Koekoek
Olf Koekoek has worked at WUA! since 2010. He is a market insight expert at WUA!, which means that he deals with translating and reporting research results into tangible insights that customers can get to work with immediately.
Today is December 14th. How was November?
"Intense, but very educational. These are busy times as we are working on a large international project, and precisely because of that pressure, we have become a better team. I enjoy it, but it can also be exhausting at times ;)"
Why did you start working for WUA!?
"In my student days I was working for WUA!, and I always really enjoyed the atmosphere and the people. Here I can combine a relaxed atmosphere with my love for online and digital. I studied marketing because I want to know what motivates people. So this is perfect for me!"
What can we wake you up for in the morning?
"Pancakes with cheese and bacon!"
Who are your heroes?
"Richard Branson, Douglas Adams, Jesus, Buddha. People who do not conform, who perhaps are anti-conformist and always avoid or avoided clichés. They all are/were real storytellers, and I have a soft spot for that. "
You have to choose: Having to shower with hotdog juice or having to brush your teeth with steak tartare every day for the rest of your life? Why?
"Showering with hotdog juice. My teeth have to endure enough already."
What do you like most about working for WUA! and what are your ambitions?
"I like the team the most, full of energy and the lines here are very short. Furthermore, I very much enjoy the fact that every week we come across something that marketers do not know yet, based on our consumer research. It goes against your gut feelings, amazing! The first thing people made up about marketing is still valid, and that is a story I would like to tell."
If you could bring three things to a uninhabited island, what would you bring?
"Ha, so many people fail on this one. Solar charger, satellite telephone with GPS, and an e-reader with top 200 books."
Are you like your friends?
"After 15 years I'm afraid we have indeed copied some things from each other, yes. What unites us is our sense of humour, and we're also all secretly non-conformist."
When was the last time you cried?
"Sorry, I really do not know. The last time I ALMOST cried was when I was listening to a very beautiful song."
What book is on your bedside cabinet?
"A couple of IKEA instruction manuals. I just moved house."
What's your motto in life?
Learn something, every day.
What's the worst thing you've done after a Christmas party?
"Ermmmm… Gone home too early? I'm always very well-behaved. I prefer hugging my own toilet…"