How Simpel.nl pulls out all the stops to persuade website visitors
Converting website visitors into delighted customers
The effect of the COVID-19 pandemic on e-commerce is clear: the number of online purchases made by Dutch consumers rose in 2020 by more than 27%. The digital arena, full of both providers of products and services, and website visitors is more vibrant than ever. How can you convince website visitors to buy from you? World-famous 'godfather of persuasion', Robert Cialdini (still) has the answer.
Social proof
In 'Influence', Cialdini describes six powerful 'persuasion principles' to convince a website visitor to make a purchase: reciprocation, commitment, and consistency, sympathy, scarcity, and authority (see my previous article on applications of this authority principle). Later, Cialdini added the seventh principle of 'unity'. Which of these principles is the most powerful in the world of e-commerce? According to Cialdini himself, there's only one: social proof.
Social proof: the phenomenon of copying the behavior of (a large group of) others, because that seems to be the right option in uncertain or unknown situations. People are social animals and like to be led by the examples of others. This makes using social proof on your website an excellent way of persuading consumers to buy from you. Also, social proof is particularly effective if there are comparable products to yours available from other providers. The choice for a particular provider cannot be made simply on differences in the offering, or by taste.
How Simpel.nl makes a difference in the SIM-only market
Take, for example, a SIM-only subscription in the telecom market. A SIM-only subscription has a certain amount of data and a certain number of call minutes and text messages. Apart from existing price differences, there are few varying specifications per product and provider. Nonetheless, mobile provider Simpel.nl knows how to make a difference in this market, partly by focusing on social proof and related features. This article shows you three ways that Simpel.nl does this.
Simpel.nl shows the most power of persuasion
In March 2021, WUA carried out an online customer experience survey within the SIM-only market in the Netherlands. Four hundred consumers assessed 4 websites, on the basis of free orientation, when they searched online for a SIM-only subscription via desktop and smartphone. Simpel.nl emerged as the winner. Not only was the provider the consumers' preferred choice, it was also most clear to consumers why they should take out a SIM-only subscription with Simpel.nl. (score for desktop and smartphone combined: 66/100).
So what lessons can you learn from Simpel.nl's advantage in the SIM-only study, if we look at how social proof impacted the persuasiveness?
1. Show website visitors clear customer reviews and show them you're trustworthy
Website visitors love customer reviews. They're a powerful form of social proof. They are a direct indication of the quality of a company and/or the product on offer and are given by the impartial consumers themselves. Customer reviews have a stronger effect on trust in a provider if they:
Are immediately visible. The sooner a consumer becomes aware of customer reviews, the sooner they will be used in the search for a suitable provider.
Are present in large numbers. A score based on 1,523 reviews obviously carries more weight than one based on 12 reviews.
Are verifiable. Website visitors should be able to find out which individual reviews contribute to the collective assessment.
Are credible. In the eyes of consumers, customer reviews are more credible if a real figure is used, (rather that a nice round figure like '100'). Other factors also add to the credibility of a review, such as a name, date, and other basic information.
Simpel.nl puts a great deal of emphasis on positive customer reviews right from the start of the customer journey. A large block is reserved on the homepage for the high Trustpilot rating, so that the score of 4.7 out of 5 is seen as soon as a website visitor lands. This score is particularly persuasive due to the high number of reviews (58,599 at the time of writing) as well as an underlined click-through option to individual reviews to verify the assessments.
As icing on the cake, Simpel.nl highlights the most recent review, with name, date, and review text. One respondent from the WUA survey summed up the approach nicely: "I think it's good that the Trustpilot reviews are immediately visible, it shows their confidence that the reviews are good."
All in all, Simpel.nl lets the noticeable, verifiable and credible customer reviews do all the persuading.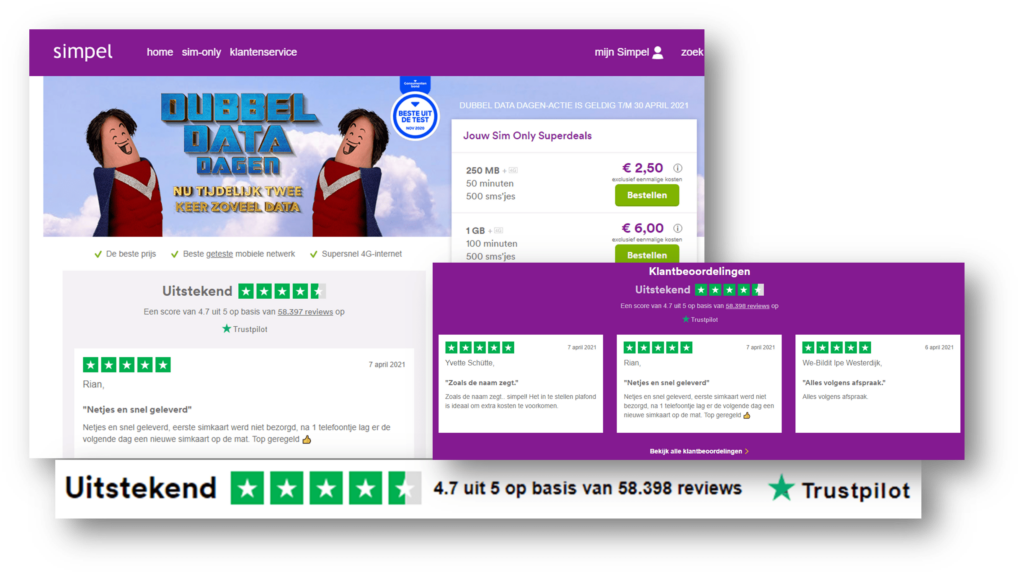 2. Link the desired visitor behavior to that of previous website visitors
Apart from large numbers of (reliable) customer reviews about the provider, social proof can be used effectively to make the most important promotion on a web page more attractive. In other words: literally display the number of people who have already performed an important action (for example, clicking on CTAs like "order", "register" or "request"). A large number of predecessors can remove any doubt the consumer might have about carrying out this same action.
Simpel.nl takes advantage of this by linking the most important CTAs during the customer journey to social proof: "Join more than 1 million customers," for example. On the homepage, this statement motivates clicking the "View all subscriptions" button, while visitors to the subscription page see that more than 1 million customers have also clicked the "Order" button before them. The choice previously made by a large number of visitors is the "social proof" for choosing a SIM-only subscription with Simpel.nl.
3. Proudly display your (public) awards
In addition to using "absolute" forms of social proof, such as the number of customer reviews and the link between CTAs and the number of customers, "relative" signals from the customer also contribute to the persuasiveness. (Public) awards tell consumers a lot about the quality of that particular provider, as well as comparing that quality with other providers in the same or different markets. This puts even more emphasis on the relative lead position. When combined with awards from an independent authority, awards create a convincing argument for choosing you as a product provider.
Simpel.nl is upfront about this: the Consumer Association's label with the text "Best from the Test, Nov 2020" is displayed directly on the homepage. This positive signal of quality, recently issued by a well-known organization in a position of authority, increases the conviction that simpel.nl is the right choice. In addition, there is a lot of space on the homepage for awards won in other domains. This shows that Simpel.nl recognizes the importance of public awards, once again confirming the very positive opinion of the consumers themselves. Yet another reason to choose Simpel.nl.
Conclusion: Let previous customers persuade your website visitors
In the volatile world of e-commerce, it is vital that you convince website visitors to buy from you instead of the competitor from the very first second. Social proof is a powerful, persuasive tool for this, and can be implemented in many different ways. The fact that many other website visitors have chosen you and are wildly enthusiastic about it, can give the consumer exactly the right dose of confidence to choose you too.
In the telecom market, Simpel.nl is fully committed to social proof in the sale of their SIM-only subscriptions. For example, they make customer reviews as credible and convincing as possible, they link important CTAs to the behavior of previous visitors and they give a lot of attention to awards given both by the public and by authorities such as the Consumer Association. Displaying social proof is an extremely powerful element in turning visitors into customers.