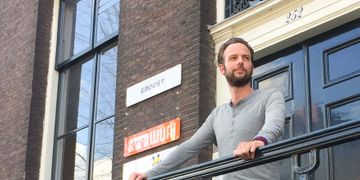 Daan Tames has been working as Managing Director for WUA! since 2014. In this role, Daan is responsible for achieving the ambitious goal of WUA! to be active in 20 countries by 2020. Daan focuses on the daily management of the operational organisation, the development of a scalable marketing & sales department, guidance and coaching of the team, and A* customer satisfaction for all customers WUA! proudly work for.
Today is April 13th. How was March 2016?
"How long have you got? I'll mention a few highlights. We devoted much attention to personal development. We went to Castricum beach for the day with a few colleagues and our regular coach Marc-Jan Hollenberg of iDDD in order to slow down. We now know; slowing down equals speeding up! We also launched the WUA! Academy which is meant to broaden and increase our knowledge levels. For ourselves as well as our customers. Our dream is a knowledge and training centre on WUA! Beach in Thailand, where we can help all companies in the world with Digital Excellence.
"In March we changed the organisational structure in order to be able to serve our customers even better. Internally we call these 'verticals', a change everyone had to get used to. Now that's behind us, we are more than ever on track to conquer the world. March was also the first real month for Marjolein van Ballegooij, our new Head of Research. I am happy she has joined our team, she brings a lot of energy, positivity, and knowledge.
"In March 2016 we also delivered the first 'trackers', a new WUA! product that maps your most important digital customer journeys each month, so you know exactly what is happening in your market, where you stand, and which priorities you need to set in order to excel digitally. We also did a lot of fun stuff with the team. We went skiing in Austria (thanks Quinn), had our first barbecue of the year (thanks Steffan), went boating for the first time this year (thanks Klaas), and had a fair few Friday afternoon drinks until late (thanks everyone). And… in addition to all these cool things we also started working for some great new customers, including Youfone and Knab. At the end of the day, our customers are the ones making all this possible."
What can we wake you up for in the morning?
"I'd probably be awake already. My 18 month old daughter Rosie loves to start chatting around 6 AM. Once you hear that, there's nothing better than rolling around in bed being all crazy. If I happened to be asleep still, you could wake me up for pretty much anything. Sleeping is necessary and I love it, but something simple like a fresh cup of coffee at Bru in Amsterdam-Oost and a good conversation is enough to get me out of bed."
Are you like your friends?
"I sent them an e-mail to ask, and so far I haven't had any replies."
Why did you start working for WUA!?
"I never started working for WUA!, WUA! started working for me. In fact, that applies to everyone at WUA!, otherwise they would've already left. If the company isn't working for you, it's working against you. Then you don't get to your own true strength and you're better off doing something else. Later on you'll read that I like to turn things around. I have known founders Klaas and Henk since we were young, we grew up together in Hoogkarspel and have been friends for a very long time. Even before starting WUA! we bought a boat together and talked about what it would be like to work together. In 2014 the time was finally right to start this adventure together. The cool thing is, I have a passion for online, I love helping people and companies grow, and I like a challenge. These are the exact ingredients I can taste at WUA! every day."
What is your favourite place in the world?
"Amsterdam. I spend almost all my time here, it's been like that for the last 15 years. I live there with my girlfriend Renske, my daughter was born here, the outdoor cafés, the canals, the parks, our offices, almost everything happens in this beautiful city. Another city that makes me feel very good is Barcelona, I'd love to do my work from there for a while. If I want to escape the chaos of Amsterdam for a bit, I get into my Volkswagen T3 campervan and I can go anywhere, the world is at my feet, such freedom!"
You have to choose: Having to brush your teeth with steak tartare every day for the rest of your life, or sleeping in a bed full of cheese and onion crisps. Why?
"Cheese and onion crisps, easy! I love crisps. Any bag I encounter must be eaten immediately. Croky Bolognese, Lays cheese and onion, and (Boerderij) ready salted with mayo are my favourites. Something no-one knows about me by the way; I have a fantastic business plan that has something to with crisps. For everyone who loves crisps, I can reveal that putting your bag of crisps in the …* for fifteen minutes before eating them makes them amazing!"
*The missing word can be found below, so keep reading!
What do you like most about working for WUA!?
"The inspiring people, the mentality and ambition as something that's always there. And that is also different every day. Everything changes all the time. Klaas has nice good yoga word for that, I can't spell or pronounce it. We develop as a team, as an organisation, the product gets better and better, the customers grow, the countries in which we are active… No day is the same. My dream ambition is to let people bring out the best in themselves. To get satisfaction from work and life, to grow and contribute to something bigger than yourself."
If you could bring three things to an uninhabited island, what would you bring?
"All the people I like, a MacBook with the internet, and a 3D printer, solar-powered."
When was the last time you cried?
"Last week. I cried at Tony Robbins' seminar in London as a result of gratitude; gratitude for the birth of my daughter, the life I was given by my father and my mother, and the opportunities I'm given all the time. I also cried with grief; grief at the loss of my father and missing him, and how I haven't been honest with myself. Maybe next time you could ask me when was the last time I laughed, and what made me laugh?"
Nope, sorry, we're running out of time and you always talk so much…
"Haha fair enough… then I'd like another go in 2017!"
What book is on your bedside cabinet?
"Whatever you think, think the opposite by Paul Arden. I love turning things around. Change your perspective and a whole new world will open up for you. A literal quote from the book: 'Simply change your life: The world is what you think of it. So think differently and your life will change.' The nice thing is, you don't need anyone for it, and you can apply it to everything. It makes you very creative. A spontaneous idea: only one side of all the signs above our motorways is used, what could we do with the other side? Advertising? If you read this and think it's a good idea, go for it, you have my blessing."
What's your motto in life?
"At the moment, the most important one for me is The truth will set you free. As humans we're so good at creating stories that we sometimes lose sight of reality. If that happens, you also lose your strength. If you want to get to your own true strength, you'll need to be honest with yourself. In addition, I believe that everything always turns out alright. And if not, there's always something left to do, to complete your journey. It brings me a lot of strength every day and gives me confidence in the things I do."
What's the worst thing you've done after a Christmas party?
"I try not remember anything after a party, haha. That's not so difficult with WUA! to be honest, as at almost all parties a lot of alcohol is consumed. I understand why you're asking this question; I don't think anyone remembers what happened at the 2015 Christmas party…"
*Missing word: freezer. Let me know what you think! [email protected]