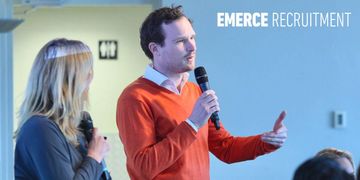 Emerce Recruitment 2018: Everything About the EVP of ING and the WUA Recruitment Research in Practice
How do you translate Employer Value Proposition (EVP) into the digital candidate journey? And how can you optimize the latter on the basis of a WUA Recruitment study? What does that study look like and what can you learn from leading job sites in the Netherlands, such as PWC and WerkenVoorNederland?
On April 5th, 2018, the Emerce Recruitment Event took place in Amsterdam. Together, Saskia Souverijn (ING) and Matthijs van den Broek (WUA) gave an inspiring presentation on the future of ING as an attractive employer. Saskia spoke about the EVP of ING, how it came about and how it is internationally translated with specific accents per country. Matthijs discussed the structure of the WUA Recruitment Research, the model and the approach, after which Saskia shared 3 important learnings from the research WUA conducted for ING in November/December 2017.
3 points of action to make the career website of ING more attractive
The research that WUA conducted for ING resulted in many more learnings, best practices and action points for ING to improve their career website. In the presentation, Saskia limited herself, mainly because of the time, to the next three points of action, which ING immediately set out to implement.
Bring more clarity and focus to the homepage
Provide a brief description of the vacancies with the help of a simple format
Improve the findability of vacancies by adjusting job titles
Emerce Recruitment 2018: A brief impression (in Dutch)