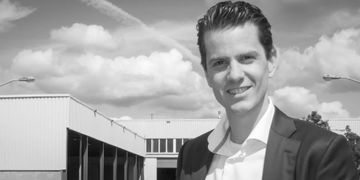 Paul Wassenaar (Justlease.nl): "We want to bring ultimate freedom to automobility!"
Leasen.nl is the big favourite with consumers who are trying to find a private lease car, according to this recent WUA Tracker study in The Netherlands. Paul Wassenaar is a manager at Justlease.nl, which Leasen.nl belongs to as part of Terberg Leasing. A talk about the customer as king, the best mobility solution, A* organisation, and electric bicycles.
Congratulations, Paul Wassenaar! You are the winner of this WUA online orientation study of private lease cars. How important is it for you to be the best?
"Very important, you can't offer the best solution for the end user if you aren't the best yourself. We want to bring ultimate freedom to automobility. If that's not something you have in mind, you will automatically remain mediocre, stuck in the middle, and then at some point it's game over. So I think it is important to be the best, because it is the only way to make the difference.
"When we started with private lease, Noordlease and MijnDomein were our two competitors. I have a lot of respect for them, they moved towards private lease before we did. We took a very good look at them, but we also wondered how we could be distinctive. And then… you need to actually make the difference. We chose, for example, to go all out on online, whereas others maintain large physical stores. We are now market leader, and need to look at what will be the next step in our entrepreneurship.
"With cars, a lot of costs are involved when it comes to the period between the car leaving the factory and it getting to the consumer. Cars are transported, they are stored somewhere, there is overproduction. They are distributed across different countries, there's an import house involved. Then they go to a dealer. No-one is happy to foot the bill for this. I can only be the best by breaking through that entire chain and say, just like the Airbnb method: away with almost everything between house and customer in order to achieve equality."
You scored highest of all providers. What is going well at Leasen.nl?
"Here at Justlease.nl there are three main objectives we focus on every single day. The first is A* organisation. The second is rate of return, and the third is numbers. These numbers are the result of everything that precedes that's going well. We have got a stable growth path now, and we're not willing to let that go. We have noticed that by now, 60 percent of our customers no longer come to us via a search engine. They come to us directly through recommendations from friends or family."
What is the role of customer research and customer focus in your daily work?
"We've divided our organisation into squads and tribes, and we have 5 teams, each of which focuses on something that is important to the customer. The way we do customer research and how we look at it will grow along with the WUA! research model. Themes such as Brand and Look & Feel (see also: the WUA! WPS model, MvdB) are important for Justlease.nl as we develop further as an organisation. What we learn from the WUA! studies is that you don't have to be a big company in order to have a very reliable brand. You also don't need a lot of brand awareness to be a very reliable brand. So you see: the online game is very different from traditional marketing. You learn much faster, the pace of development is higher. But you must be open to customer feedback, the numbers, and the underlying data.
"We have a customer panel of 300 people and we regularly ask them questions, and we are the only leasing company that has a mobile app as a central service body. The app on your phone is more important than the car you drive. We also do customer research on the new business side. We hold group discussions with WUA!, which is qualitative research. But we also have feedback tools and polls on the site, we do a lot of A/B testing, we are continuously making the data and analytics work for us.
"Once you are one of our customers, our service apparel starts running. As a customer, you are going to experience so much in the next 4 years. From damage repairs to bad luck on holiday. We gauge each process, and every department is responsible for it. We see, also in the teams that are working on the site and developing the app behind the scenes, that making choices is increasingly about the added value for the customer. Do things that customers are waiting for, focus on the things that are really relevant for the customer!"
What is your biggest digital challenge?
"The core of our challenge is to overcome the assumptions and ignorance surrounding Private Lease. Once people are in contact with us, we score very well. Digitally it is difficult to establish this contact. We only work digitally and online, and we're creating a new automotive market which, to date, has always been offline. Orientation may be done online, but buying a car is something many people still do offline. You buy from a dealer, at sales shows, maybe you feel it's necessary to test drive a car before you buy it. Private lease is relatively new. People are cognitively dissonant. The product 'private lease' should be taken into consideration much more often: I will either lease or buy. Or I'm going to either lease or finance. If you are financially driven and calculate what a car with everything that goes with it actually costs, I can convince you.
"We have, quite simply, the best mobility solution in the Netherlands. In terms of organisation, service, price-wise, in terms of online search experience. In this respect, at the moment we are still using a bit of a generalist approach with broad Adwords campaigns, for example. We need to be present where the needs are, also offline. So we need to be there when you take your car to the garage and are presented with a huge bill. Do you go for the repair, or do you order a car from us following the principle of 'order today = drive tomorrow'?
"People think you also have additional tax on private leases. That causes us problems, yes. If you're driving a lease car, the AFM thinks it's financed. And we suffer from that. We view it as a rental, which is legally true. However, the AFM sees it as a financial liability for the longer term and that is actually true. Then you see that people like you, Matthijs, will continue to use a 10 year old diesel because they think it means they'll have less financial burden. That's not the case, go on and calculate it. The risk of driving an older car is much greater, because you will probably need a lot of repairs. A small repair can easily cost as much as 1000 euros. Where does that money come from? Your savings account, if you have one. As a result, there will be other things you can't pay for. For us the challenge is finding a happy medium for consumers."
How do you view service in relation to sales? Could service eventually become the new sales in your industry?
"I want new customers to get confirmation from existing customers that we are the right party with a very good product. As I said before, this is true for more than sixty percent of new customers. This means you generate more sales, it makes sense. But at the same time, the core of a family business is that you remain family. If customers experience any problems, looking for a solution is the very first thing we do. No matter what."
"Ultimately, as a company you just CANNOT deliver a bad product. A bad product will affect your new business and retention. You can say, however, that you offer the lowest price, and as a result you have to compromise, meaning that consumers do not get EVERYTHING another company may be able to provide at a higher price. But you can't say: you'll get this or that, and then fail to deliver. Online you will be hung from the highest tree.
"So, we are more like Coolblue than bol.com. Coolblue says: every experience you have with us has to be perfect. Ultimately, in the long term you're shooting yourself in the foot if you do it wrong. Bol.com collaborates with external parties, and three times in a row I experienced bad delivery. It arrived late, they couldn't find the parcel, and so on. Coolblue take care of the delivery themselves with their blue vans. That's what we do: we have our own cars with registration and stock, with our own transport through our own system, and you can come and pick up your car from us, here in Utrecht. We have everything under control."
So… with this level of control, can you enforce an A* service experience within your organisation?
"Yes! Our delivery of cars gets a 9.6 out of 10 with an NPS of 73! Every Saturday, it's one big party here (the delivery day of the lease cars, MvdB). You don't want to leave that to someone else, do you? It's also possible to get the car delivered to your house. We were the first leasing company with a Thuiswinkel quality mark, haha!"
Are there any cool things in the making at Leasen.nl within your focus area? What (digital) innovations are you working on?
"We have just started leasing bicycles as well, we're focusing on the electrical segment. We are now offering an electric bicycle for 40-50 euros per month. We also offer a little trip registration device for 3 euros per month. And you can call us for restaurant tips, the best garages, or where to fill up cheaply. We are making your trip more enjoyable this way. Our slogan is: 'Dat is slim geregeld' ('That's cleverly arranged'). I want to service the entire Netherlands and relieve all auto stress for everyone.
"In digital we have taken a massive step, but it needs to be even better. At brand level, we first had business lease, then private lease, and now we've added bicycle lease. We have an ever-expanding range of products, and the challenge is to structure the Justlease.nl brand well online too. The question is what the mobility market will look like in 10 years. What I do know, is that we are going to put our mark on it with Justlease.nl. We don't care how, as long as it is the best solution for the consumer!"