life insurance
Win a bigger share of the Life Insurance market
The life insurance market is a competitive market, and winning is hard. Know exactly what your competition is doing better – and beat them at it to grow your share.
Win the battle for the customer
We regularly benchmark the best customer experiences in the Life Insurance market.
The ranking is much more than a list. It shows how you are losing out to your competitors in the Life Insurance market, and how close they are to overtaking you.
With detailed feedback and clear answers, you know why – and what to do to stay at the top.
Use all the powerful insights you need to keep winning every day.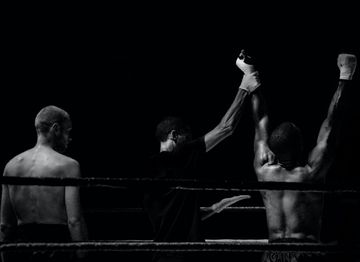 Go deep into the details
Your Dashboard uses a rigorous in-depth analysis of the experiences of 400+ consumers, who have been given the realistic task of finding, and selecting a Life Insurance.
Each step of your customer's journey is cataloged, measured, and converted into insights and metrics presented in your Customer Experience Dashboard.
Quantitative data and Qualitative feedback give you a detailed vision of how the customer experiences your website, and clear priorities for targeted improvements you can make today
Get the same detailed results on your competitors – see what they're excelling at, and beat them.
With WUA you always have the most up-to-date picture of what's working, and which optimizations are needed today.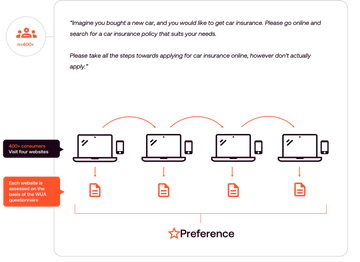 Build your strengths, eliminate your weaknesses
Use clear indicators to precisely target improvements with the most strategic importance.
Our predictive modeling tools will help you see where the greatest impacts can be made. Understand which actions are needed to improve your Sales Score and CX Score, and know that you're spending resources wisely.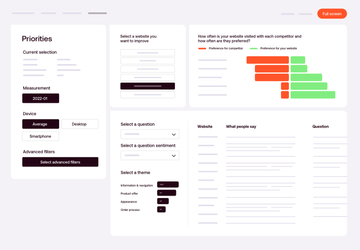 Go beyond analytics. Way beyond.
You already know your conversion rate – and all the rest. Now you can understand the story behind customer behavior with detailed qualitative feedback.
Zoom-in to the single-customer level – and find out what works, what doesn't, and why they choose a competitor over you.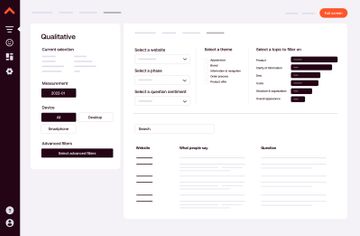 Don't just take it from us.

"We believe it's essential to have every task surprisingly easy and also human-centric. And we saw that this was not the case on one of our main tasks: to add an insured person. We used the WUA insights to make a better version of this task, and we saw an increase from 68 to 75 points in the digital Service Score, which we are very proud of."

Jeroen Görtzen Chapter Lead Digital at VGZ

"Great that the efforts of so many CZ colleagues on value and functionality create value! Striking thing to see in the WUA benchmarks over the years is that customers are making higher demands. It goes without saying that at CZ we grow along with this trend. We will continue to act sharply on multichannel customer journeys and cherish our IT, UX and CX specialists."

Nils Vergeer Strategist Digital Experience at CZ