Get the full Health Insurance 2023 rankings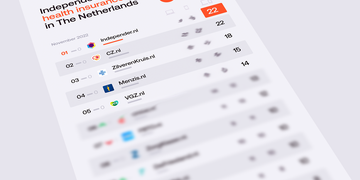 In November 2022, for the third year in a row, Independer has managed to convince most consumers to take out health insurance through them, followed closely this year by CZ.
In the closing measurement of December 2022 CZ takes over the lead from Independer.
One thousand eight hundred consumers looked online for a health insurance policy for 2023 and assessed 14 websites.
Discover your position in the full ranking, including scores per device.
Full ranking with 14 health insurance websites
Desktop and smartphone scores
Your rank compared to last measurement
Straight to your inbox
Fill out the form, and we'll email you the full ranking and scores per device immediately and for free.