How to optimize your online customer journey by looking outwards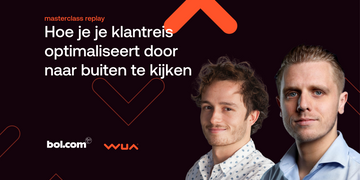 [This Masterclass on Demand is hosted in Dutch] You probably already use a lot of metrics and data to improve your online customer journey. But if you don't know which competitor you are losing customers to and why, then you lack the necessary knowledge to optimize your journey.
In this Masterclass On Demand, Dennis van Evert, Customer Journey manager at Bol.com, talks with our Digital Research Consultant Koen van Lunteren about how you can optimize your customer journey by looking outwards.
What you will learn during this free masterclass:
The importance of looking at your competitors and the direct market in which you operate instead of just looking at your own metrics and data.
What you can do with these insights and draw up concrete UX / Customer journey optimizations based on this data.
Awareness of the fact that your future customers ALWAYS pay a visit to your competitor during online orientation and how you can anticipate this.
Inspiration to improve your online UX with concrete examples of how Bol.com successfully implemented recommendations from WUA.
Speakers:
Dennis van Evert, Customer Journey Manager at Bol.com
Koen van Lunteren, Digital Research Consultant at WUA