Create an experiment-driven CRO strategy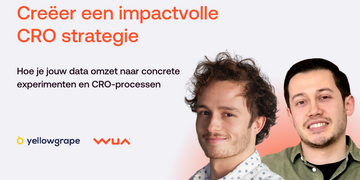 [This Masterclass on Demand is hosted in Dutch] It's likely that you already have a wealth of website and CX data, but without concrete follow-up steps, it's of little use. The real challenge is converting your data into impactful actions and establishing a continuous optimization process.
How can you ensure that your organization doesn't solely focus on obtaining data? And how can you convert that data into concrete experiments to increase website conversions? In this hands-on masterclass, Nick Schaperkotter, Senior CRO Consultant at Yellowgrape, and Koen van Lunteren, Research Consultant at WUA, show you how to achieve targeted CRO successes and create an experiment-driven culture in your organization, in addition to bringing in valuable data.
This masterclass covers topics such as how to achieve more impactful results with an experiment-driven approach, a step-by-step plan to bridge the gap between research and action, how telecom company DELTA Fiber converts its benchmark data into action-oriented optimization with priority, and how to successfully convince your organization to embrace an experiment-driven culture.
Expect to receive concrete tips and inspiring examples based on customer cases in this free masterclass on demand. Discover how translating data into experiments leads to a better customer experience and higher conversions.